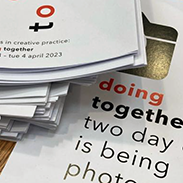 April 2023: Doing Together symposium Bath Spa University
doing together was a two-day making and sharing practice symposium at Locksbrook campus Bath Spa University. This event took the form of 'doing together' through practical workshops that share the work we make/do as practitioners. The aim is to foreground the methods we use for doing, and share them with others. The symposium culminated in a reflective discussion on the event that evolved.
Natasha Kidd ran 'The Undoing of an Object' a short practical workshop that attempts to interrogate the complexities of "thinking through making" by literally taking objects apart. Deconstructing an object visually, materially and conceptually we will interrogate the processes within it: making, looking, thinking, gathering and auditing together.
Jenny Dunseath ran 'About Making: Keep Chewing the Gum' a session aimed at audiences with an interest in art practice, this playful and sometimes stupid session, involved multi-sensory, participatory approaches. While focus, certainty, coherence, and singularity are commonly considered pedagogical ideals, this session explores the nature of an art practice and the relevance of distraction and uncertainty to promote flexible, multifaceted, adaptive, and associative thinking.